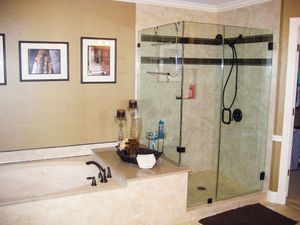 BATHROOM REMODELING LAKE JACKSON, TX
TILE SURROUND FOR SHOWERS AND BATHTUBS
Many people want to upgrade their showers and bathtubs to give their home a fresh new feel. Branson Construction is one of the oldest and best bathroom remodeling companies in South-East, Texas. We use the latest in (Chief Architect) 3-dimensional modeling with full color graphics and layout designs to help you see your creation before pressing go. Ask us how we can design your dream bathroom.
CHANGE BATHTUBS TO SHOWERS
One reason to change your bathtub to a shower, or a combination of both, for some is a preference, but for others it is a necessity. ADA approved/Handicap compliant bathrooms allow for a water tight swinging door to fitted into a bathtub space allowing for easy standing, entry, and exit, without the precarious step over the lip of a wet tub. If you or someone you love is getting to the point that it is difficult to enter or exit their tub, it might be time to call Branson Construction about getting a handicap accessible bathroom remodel.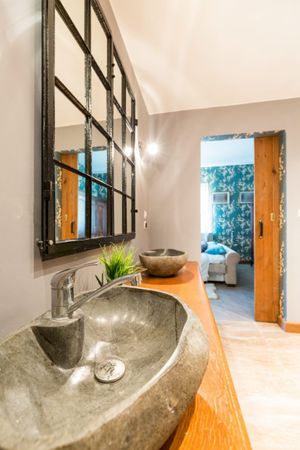 CUSTOM MIRRORS
Getting a custom cut mirror into the bathroom is as easy as giving Branson Construction a call. Whether it is a special shape or just large and needs a professional to connect it to the wall, our crew is highly experienced in all aspects of the process.
FIXTURE INSTALLATION
One of our clients had just moved into a new home and really wanted to spruce up the bathroom as a first project, but she had a challenge. She wanted a surround 6 jet shower head system for her master bathroom, a special oil rubbed bronze faucet/sink design for 2 bathrooms and a nickel finish for the guest bathroom–along with 2 new toilets, a bidet, and ambiance lighting. When she called us, she was worried that the job would prove too complicated. What she found out, was that the team at Branson Construction were not only capable installers of the modern fixtures, but also had several recommendations to the lighting that made her dream bathroom look even dreamier. Ask about our fixture installation service for all your bathroom remodel needs.