CARPET CLEANING
The Most Qualified Carpet Cleaning & Restoration Services
Serving Lake Jackson & the Surrounding Areas
EDUCATION & EXPERIENCE MATTER IN LAKE JACKSON
Let's face it, anyone can clean carpets and dry out water damage. However, do you want just "anyone" restoring your home after a flood or cleaning your carpets when you're about to move into a new home?
Branson Construction in Lake Jackson offers the best home improvement, commercial build outs, and restoration services. From windows and doors to kitchen and bathroom remodeling, we're a jack-of-all-trades. With over 50 years of experience, you won't find a better-education, detail-oriented, and experienced team around. Contact us today for your next home or office needs!
WHAT BRANSON CONSTRUCTION OFFERS THE PEOPLE OF LAKE JACKSON
Over 50 years of experience
Continual education from the best organizations in the world
Exceeds your expectations with our unparalleled service
Help with insurance claims
Savings in time and money with our efficient, knowledgeable service
Our connections within the community allow us to get the best prices for your project
Can customize any service
Honesty, integrity, hard-work, and good, old-fashioned values
And much more!
CARPET CLEANING IN LAKE JACKSON, TX
Branson Construction's Xtremely Clean Carpet Cleaning Service is second to none when it comes to the best carpet cleaning company in Lake Jackson, TX. But what should you know about carpet cleaning before selecting a service? Not all cleaning companies are the same. Some use cheaper chemicals that can damage certain kinds of carpets and upholstery. As a local business, we know the families in this community would rather not have chemical residue left behind on surfaces where their children/pets play, and—who you let in your house matters. By taking into account all of these factors, we truly offer the best service at the right price.
UPHOLSTERY CLEANING
Xtremely Clean knows that accidents happen not just on the carpet, but also on our furniture. How many times have you been watching Netflix at home and just happened to spill wine on the sofa or love seat? Maybe you have young children that decided to add some designs to the upholstery, and now you are wondering how to get out crayon. If there's a way…Xtremely Clean's professionals have the know-how to remove most stains that we consider permanent.* We are able to clean a wide range of fabrics on the places we collect the most stains such as: sofas, love seats, recliners, dining room cushions, accent chairs, chase lounges, and office furniture.
AREA RUG
What should you know about cleaning area rugs? Well, depending on the fabric, a lot more care than people realize should be taken if you want to preserve the look and feel of it. At Xtremely Clean in Lake Jackson, TX, we are able to clean not just run of the mill rugs, but also oriental rugs. For oriental rugs, our process involves flooding it before cleaning like a normal carpet, then drying it "flat" on a specialized drying mat so the carpet doesn't shrink and become warped as it dries–a critical step that you do not want to skip.
PET TREATMENT / STAIN REMOVAL
Xtremely Clean's pet treatment involves special enzymes which chemically change the form of pet urine. We use a special deodorizer which will freshen the carpet and surrounding area. While there are never any guarantees on taking out a stain—which depends on the amount of time it has had to sit—if it is possible to remove the stain and the smell without destroying the underlying carpet, we will find it. Since customers who have "pet stains" tend to also have pets, we make sure all of our cleaning products are completely safe for pets and the environment. A few extra notes we like to bring up when distinguishing ourselves from your average carpet cleaning companies: we use CitrusSolve as a pre-spray and also a carpet protection treatment which makes high traffic areas more resistant to dirt (…like a Rain-X for the carpet).
*While Xtremely Clean's stain removal capability is exceptional, there are some stains that cannot be removed completely if too many years have passed, or if the state of the fabric prevents proper cleaning.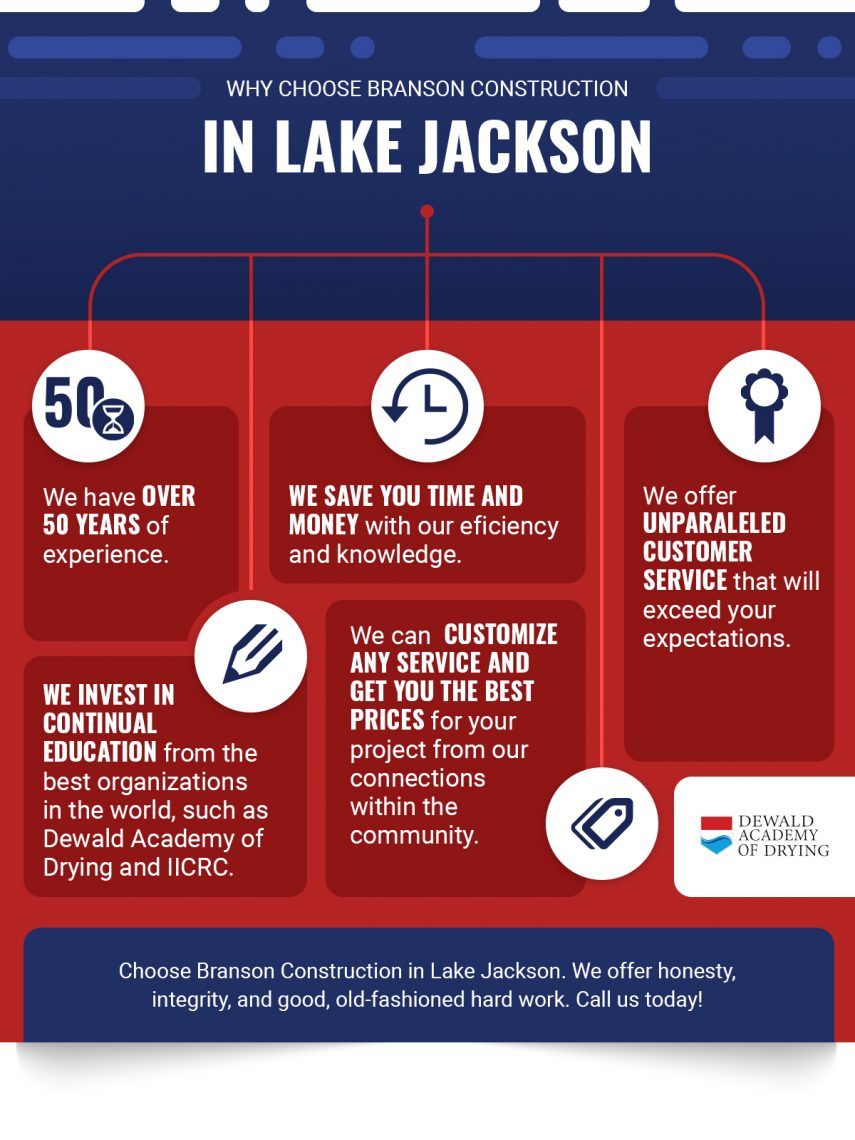 Certifications can be dismissed by some people because it seems as if certifications are a dime a dozen these days. However, some certifications are like gold, meaning they show a proficiency in a craft that can be hard to find in your area.
Branson Construction in Lake Jackson specializes in a variety of home improvement services, from roofing and carpentry to water damage restoration and residential disinfecting services. We put a lot of time, effort, and energy into training our technicians so they are the best.
IICRC CERTIFIED
Recently, our Carpet Technician just became certified with the IICRC, or the Institute of Inspection Cleaning and Restoration Certification. This is the non-profit certifying body for the cleaning and restoration industry founded in 1972. With over 60,000 Certified Technicians, the training here is top-notch and second to none.
DEWALD ACADEMY OF DRYING
Many people believe that restoration and remediation are no-brainer jobs. After all, it's just a matter of turning on a fan and drying out your basement, right?
Nothing could be further from the truth when it comes to water damage restoration. Our expert technicians are certified through the Dewald Academy of Drying. As the premier academy for teaching others how to restore homes and businesses that have suffered from water damage, this Certification teaches comprehensive structural drying in all settings: residential, commercial, and industrial. The program is a holistic approach to both the science and the techniques of structural drying.
WHY CHOOSE BRANSON CONSTRUCTION IN LAKE JACKSON
Getting education above and beyond what is required is a testament to a company's dedication to the highest-quality service. When you partner with Branson Construction in Lake Jackson, you will soon see the difference our education, experience, a thirst for knowledge, and the dedication to our customers make. Contact us today for a free quote!