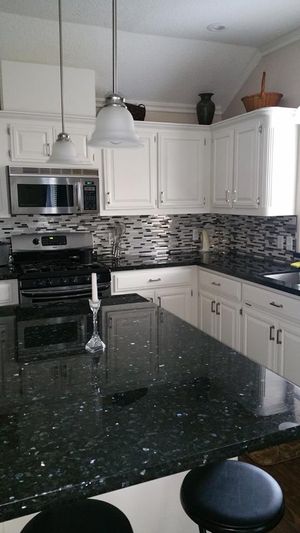 KITCHEN RENOVATIONS AND REMODELING IN LAKE JACKSON, TX
When it comes to doing a great job, Branson Construction has 50 years of best in class Remodeling and Home Renovations in Lake Jackson, Tx. We do things like custom cabinets, granite, tile, and even appliance install, all with licensed, experienced, contractors. Should you experience flooding in your kitchen, or have the need for water restoration services, we can walk you through the insurance claim process and help make sure all documentation is in order.
QUALITY BUILT CUSTOM CABINETS
A few things to note about our custom cabinets: they are not stock or "builders' grade." I.e. they are of superior quality in comparison to what you will find in most standard houses. They can be designed with customizable inserts, pull-out shelves, lazy susans, spice racks, and cookie sheet / tray inserts.
CUSTOM COUNTER-TOPS: ALL SURFACES
Ever wanted a nice granite island or perhaps you've dreamed about resurfacing your entire kitchen? We can do all the leg-work for you. You pick the color, we provide the measurements. When it comes to remodeling kitchen countertops, granite in particular; proper sizing, cutting, handling, and getting it done right the first time saves not just a ton of money, but also a metric ton of stress.
TILE BACK-SPLASHES AND FLOORS
Branson Construction's experts are ready to provide you with curated tile selections for kitchen remodeling. While there are many different popular options for tile such as Ceramic, Mosaic, and Porcelain, ultimately choosing the best tile installer i.e. "Branson Construction in Lake Jackson, Tx" is the most important factor—so that the overall look and feel of your tiles have proper alignment, even spacing, and smooth placement.